Copy of DIY Videos/Manuals For Fly Screens
1). Double Cassette retractable screen for doors up to 2300mmW/2400mmH
2). Single Cassette retractable screen for doors up to 1400mmW/2100mmH
3). Windows retractable screen for up to 2100mmW/1500mmH
4). How to replace spring in the retractable cassette
Diy Installation Manuals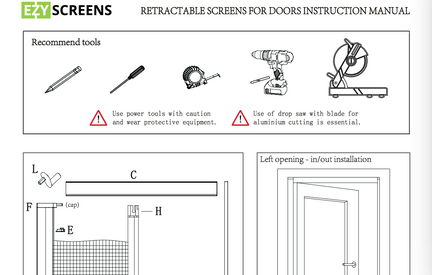 Screen Door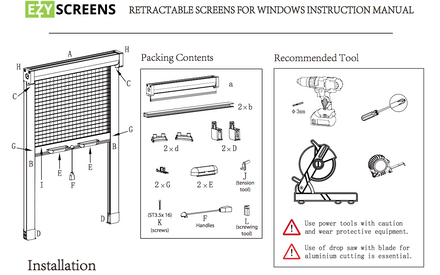 Screen Window
Keep away pests with DIY retractable fly screens
Love the idea of having fresh air flowing through your home on a breezy summer's day but worried about insects, flies and mozzies getting inside? While you could fork out money for a custom fly screen for your doors and windows , it may be more cost-effective to make them yourself with some quality mesh and an aluminium frame.
Before spending money on mesh screens that don't live up to your expectations, then why not consider making them yourself.
Explore Ezy Screens video tutorials. Here you will learn everything there is to know about DIY fly screens from the basic components required , step by step guides, measuring advice to installation tips for retractable window screens and doors.
How to measure DIY fly screens for windows & doors
For perfectly installed retractable insect screens, it's important to make correction measurements. No one wants a poorly fitted DIY fly screen door! Here are some general tips to help you:
Decide on exactly where you want your DIY retractable fly screens to fit. We recommend fitting the screen inside of the entryway frame. If there isn't a section to fix the screen, contact our experts for installation advice.
Measuring and fitting methods vary depending on your window/door model. Prior to installation, ensure that your window/door frame offers FLAT planes on all four sides. This type of frame means that you can properly screen your retractable mesh screens into existing door or window frames. For sliding mesh screens, the screens can't be screwed to the channel which the window/door screen slides.
Consider the style of mouldings prior to installation
Live in an art deco home? Different types of architrave mouldings on your door or window frame can affect the installation process of your DIY retractable fly screens. As architrave mouldings are usually ornate and have different depths, it's essential to choose which depth layer you would like to fit your mesh screen. Consider the following installation tips:
The architrave layer has a depth over 33mm or 40mm.
The bottom of the architrave moulding or the floor on the plane of this layer must be flat, or show a depth of over 15mm or 25mm.
There are no obstructions such as window hardware or alarm system control boxes on the plane of this layer.
Once you select the layer of the architrave on where you want your DIY fly screen to go, you can begin to measure the width and height of the opening. We suggest measuring the height of the opening at both ends, and at the centre.
Interested in Ezy's screens cost-effective solutions? Contact our team today for more information, or register online for the latest product information.